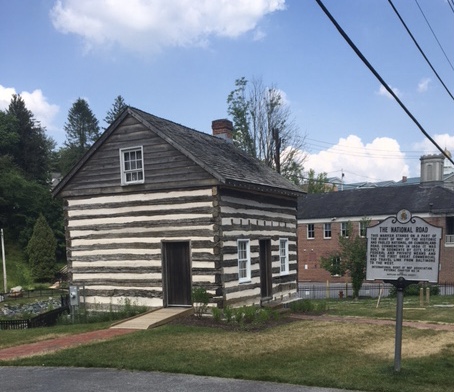 The first segment of the Ellicott City Black History Roundtable will be the examination of the true history of the "Thomas Isaac's Log Cabin" in historic EC. Once upon a time, it was referred to as the Merryman cabin, due to it having been located on Merryman Street (off Main). It was also officially known as the Fannie Stanton cabin, due to their family ownership of it. The Stantons were African American, and here is the cabin before it was moved from Merryman Street:
The name became "Thomas Isaac's" for reasons that our nonprofit organization and others question. In addition, there are questions about the accurate age. Heritage/tourism brochures and facility docents say "circa 1780", but there is documentation that definitely suggests otherwise. We officially questioned the county about its alleged age, and received a response with some helpful information that confirmed there's good reason for our questions.
The cabin was disassembled and moved from Merryman with the logs stored for many years before being placed here where you see Sen James Clark Jr standing in front of it at the dedication in 1988.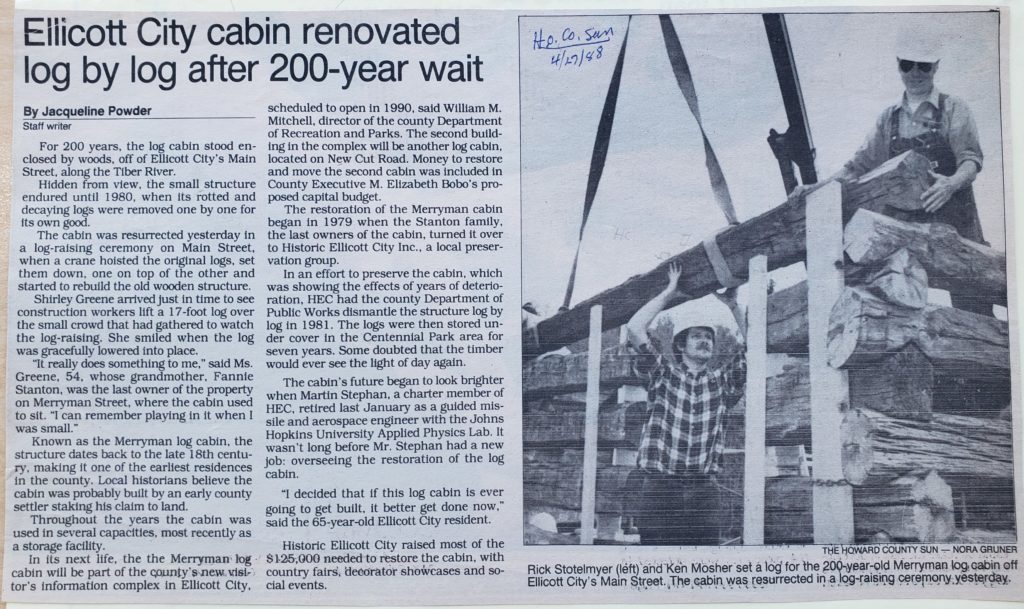 Due to Ellicott City flooding, the cabin got moved again in 2018. They had to remove it from its base. Here's a picture from that:
Repairs were done to the material in between the logs, and it was rededicated in October 2020 at a ceremony with our current County Executive Dr. Ball: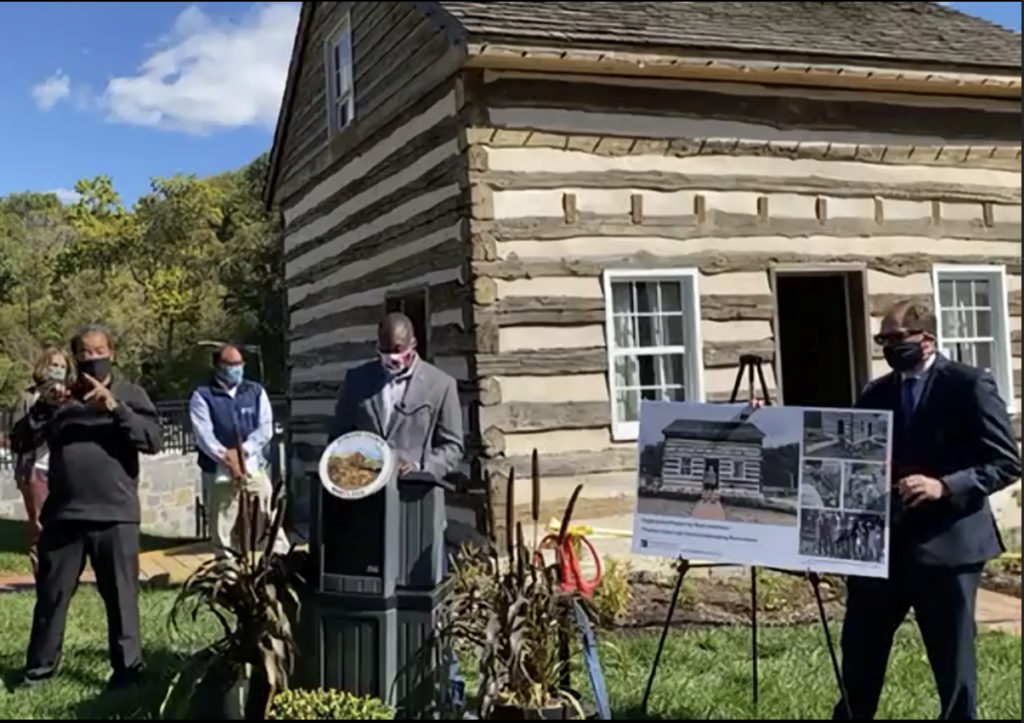 The cabin is already affiliated with St. Luke's (a historic African American church who knows and appreciates what we're doing) directly across the street from the cabin, but possibly not in the way it's commonly told (the church met there in 1870s). From their website, it's written that "The church had its beginnings in Oella, Maryland and remained there until 1860. A parcel of land was purchased by the Trustees from Thomas Isacc and his wife for the sole purpose of building a place of worship. This property was located on Merryman Street, then known as " Missionary Bottom". A log cabin was erected and called the "Colored Church of Ellicott City". This building presently stands directly across from the current location."

What's the truth?

The church Trustees DID purchase a parcel of land from Thomas Isaac, and they DID erect a church on land. Jacob Henson Jr.'s father (Jacob) was affiliated with the church as a Trustee. Thomas Isaac purchased the land in 1858, according to what Maryland Historical Trust has in their own writeup. However, there is no Chain Of Title done for this, which makes conclusions problematic. It is written that "Owned by Thomas Isaac in 1878, it probably furnished a comfortable and scenic home for one of Ellicott City's First settlers." Did he own it then? There are ways to know conclusively. Is it the same building shown in the photo with Dr. Ball above? The MHT writeup, done by the County, says "The log cabin is believed to have been built circa 1780 according to the estimates of local historians.." Which historians? How did they conclude that? Someone from the County who shall remain nameless wrote that she has asked "..but no one seems to know…" How old is it really likely to be?

We will try to find out. History should be accurate.
If you are interested in participating in this session, please send an email to admin@hocoltr.org
NOTE: Before anyone thinks to get upset at people examining EC history in 2021, afraid it will materially alter what is said about the age of things in EC, one need only look at how the walking tour brochures discussed the plethora of old buildings there. One old building among many of a similar age, evidently.
Maryland Historical Trust writeups sometimes do disclose that there is "folklore" and "conjecture" surrounding properties. Facts can help to decipher what is what.